Our sister company Location Fixer was established over a decade ago, and in that time, we've hosted many Holiday movies for Film shoots and parking too (all those crew and work trucks have to park somewhere!).
Here is a small selection of Holiday movies filmed in BC that either Location Fixer or Location Base have been a part of. Which ones will you be watching… ?
A Gingerbread Romance   An architect begins to find herself longing for a place to call her own as she works alongside a baker to win a gingerbread house contest.
A Coyote Creek Christmas   The fate of the Coyote Creek Inn and Paige's relationships are both left to the magic of the holiday season to decide.
A Christmas Proposal   A Chef who dreams of having her own food trucks, agrees to pose as the girlfriend to an attorney. Working together, they try to prove he's the ideal candidate to take over the family firm, but things become complicated as real sparks begin to fly
Christmas Takes Flight  Matt, a number-crunching CEO, purchases Jenny's family-owned, regional airline. Matt's cost-cutting initiatives threaten Christmas when he cancels the airline's annual holiday charitable benefit for underserved children.
The City of Langley is a really popular Location for Holiday movie shoots.
Time for them to Come Home for Christmas
During the holidays, a woman with amnesia catches a ride with her handsome nurse to investigate the only clue to her identity: a newspaper clipping for a Christmas Festival with a cryptic invitation.
As Christmas approaches, Paula, a St. Louis antique appraiser, reluctantly accepts a marriage proposal from her boyfriend Daniel. Sensing her reticence, her Aunt Jane invites Paula to her Nantucket home. When Paula visits nearby Martha's Vineyard, she meets a charming inn owner, Gery, and enjoys the celebrating the holiday festivities with him. Although Paula develops feelings for Gery, she moves forward with her engagement, but Aunt Jane reminds her that sometimes we receive messages from above to help determine which direction life should take.
At Christmastime, a close-knit group of childhood friends return home after 10 years to take part in the celebration of life of their beloved high school teacher.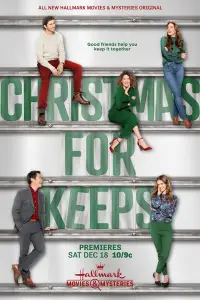 Last but not least, our Modern Farm House location hosted a mini Hallmark Promo shoot earlier this year. The cast from Three Wise Men and a Baby did a Q & A  in their living room. Looks great doesn't it?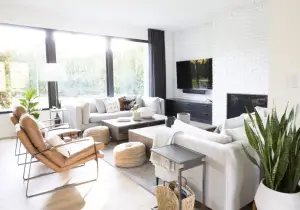 Three Wise Men and a baby is on Hallmark Channel now!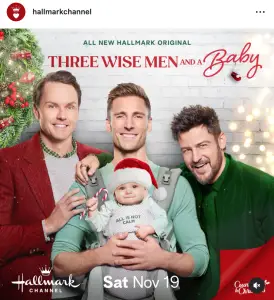 .